INTERVIEW: Bebe Rexha Talks 'All Your Fault Pt. 1'
It's an extremely exciting time for Bebe Rexha. In 2015, her song "Me, Myself and I" took off into the No. 7 slot on the Billboard Hot 100, a year later she and Martin Garrix teamed up for their collab "In The Name of Love," which went to No. 1 on the US Dance Club Songs chart. Now, the 27-year-old singer/songwriter is finally releasing her debut studio album, and after much anticipation, Rexhars everywhere can now listen to the first part of the record, All Your Fault Pt. 1. The first half of Bebe's first album features six songs including her new single "I Got You," as well as collaborations with artists like G-Eazy and Ty Dolla $ign.
We recently caught up with the native New Yorker during an exclusive interview. She talks about what it was like to put her debut studio album together, why she decided to release it two parts, the meaning behind her album title, the story behind the album's lead single, and more.
How Bebe Rexha Writes Songs
For Bebe, putting together her debut album has been really special, and "such an incredible experience. She tells us, "There has been a lot of heartbreak and a lot of happiness, and I've been able to collaborate with so many amazing artists like G-Eazy, and Ty Dolla $ign, and Nicki Minaj, and so many incredible producers."
Rexha has been songwriting for years, and has penned hits for artists including Selena Gomez, Iggy Azalea, Nick Jonas, Tinashe, and more, and famously co-wrote Eminem & Rihanna's "The Monster." So what was it like writing songs for her own album? The answer is, in no different way. Bebe explains that when she writes songs, she writes tracks on whatever she is feeling, and doesn't think of who's lap the tune might end up in. "Writing songs for my album is just like writing songs for other artists. I think when I did 'The Monster' or 'Hey Mama' for David Guetta, or anything for Selena or Tinashe, whoever I might have written for, I always kind of write songs based on what I'm feeling like. I never think of the artist. I just kind of write the song, and if it ends up in their lap, then I approve it and send them best wishes."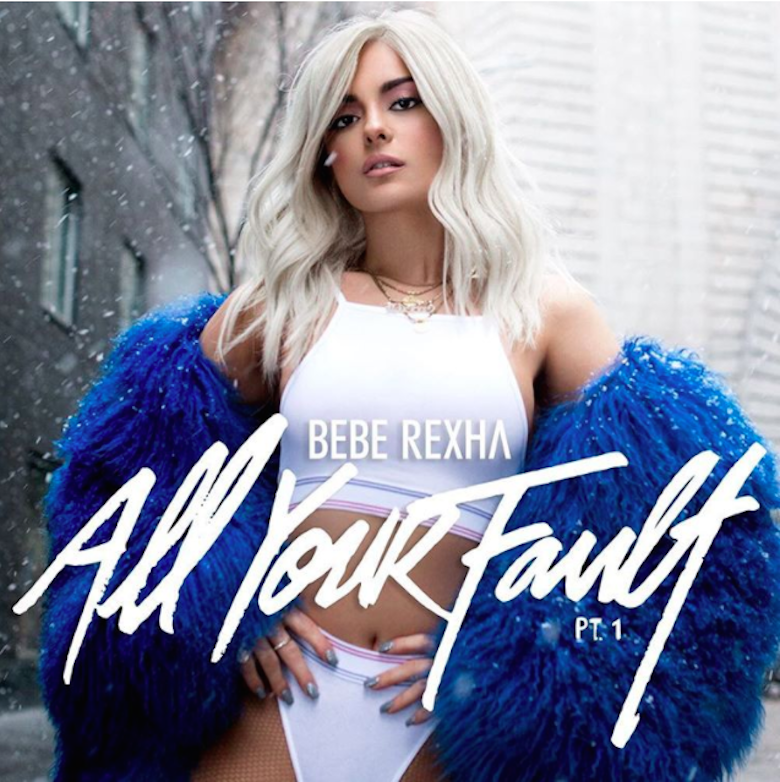 On why she decided to release her album in two parts & the meaning behind the title All Your Fault
"I decided to release my album, All Your Fault, in two parts because I just feel like the music world is so much different [now], than when I was growing up. When I wanted a single, an Aaliyah single or something, I would buy the album. My mom would buy me the album and I would have to listen to all 12 songs that were on the album because I already paid for the whole thing. Now, I think because we're in a streaming world, everything is single based, and I wanted to give my songs all a chance to be heard; so I decided to put out six songs on two parts, and then I will release the physical, full album in the summer."
So, whose fault is it? Who is the "Your" in All Your Fault? And why did Bebe give her debut that title? She was actually inspired by a breakup from an ex-boyfriend. "It was based off of a breakup and I was super-bitter because I had an ex-boyfriend break up with me through a text message after a year-and-a-half."
Bebe adds of the album itself as it relates to this situation, "It's like an evolution of a breakup. I slowly kind of get over this breakup, and become stronger, and learn how to love myself, and I become this independent woman, and that's kind of where the album ends up. And it's a change in the meaning for All Your Fault. It's 'All Your Fault' that I have become this strong, independent woman."
On collaborating with different artists & her favorite songs on All Your Fault Pt. 1
Bebe has collaborated with some amazing artists in the past including Nicki Minaj on "No Broken Hearts" and Martin Garrix on "In The Name of Love." And for All Your Fault Pt. 1, she's teamed up with G-Eazy (who she previously worked with on "My Myself and I"), and Ty Dolla $ign. As she explains, she likes for collaborations to happen naturally.
"I didn't go feature crazy on this album. I kind of just let things happen. I worked with YG, and A$AP Ferg, and Nicki Manaj, and Ty [Dolla $ign], and G-Eazy, but I only put a couple of them on the album. I think collaborations should come organically and that's what definitely happened with G-Eazy, and Ty Dolla $ign, and Nicki. I decided to keep them on the album, and I'm really excited for people of the world to hear these songs. I think that there is definitely a special energy in them, and I love them."
As Bebe explains, it's hard to pick a favorite song from this new record, but she's very excited about her song "Small Doses," and her collab with G-Eazy "F.F.F" (F*** Fake Friends), as well as "Bad B*tch" featuring Ty Dolla $ign . "I love 'Small Doses.' It's a beautiful record about love and how sometimes you can only take somebody in small doses. Sometimes the love becomes too toxic and you only need it in small doses. I love the song that me and G-Eazy did, and the song that me and Ty did. They're all my favorites."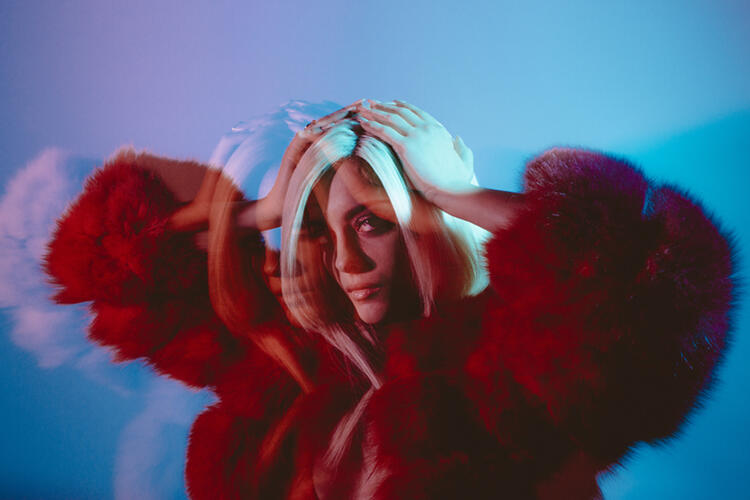 On the meaning behind behind the lyrics for "I Got You"
"'I Got You' is about meeting somebody that you feel connected to, but you've both been through a breakup, and you're telling this person, 'I've got you this time. This is different. I've also [had] my heart broken. I'm hurt. I can see that you're hurt and I just want to try this thing out. There's something here.' And it's just basically confessing your love for this person and telling them, 'Everything is going to be okay.'"
Photos: Katherine Tyler for iHeartRadio